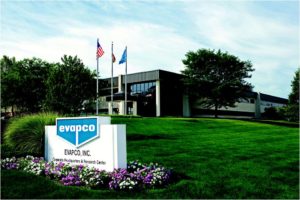 Get to Know EVAPCO
The global innovator in heat transfer solutions

Serving the Commercial HVAC, Industrial Refrigeration, Power Generation, and Industrial Processing markets

Founded in 1976

Employee-owned

22 manufacturing facilities in 10 countries

More than 170 sales offices worldwide
Learn More Now
Visit evapco.com for more information.
Welcome to Evapco Midwest
Evapco Midwest was opened in 1988 in a 45,000-square foot building with only 17 employees. Today, the Midwest has grown to a 400,000-square foot campus with over 500 employees. What makes EVAPCO different and better than any other manufacturer in the commercial HVAC, Industrial Refrigeration, Power Generation, and Industrial Processing markets? In the end, the answers all point back to our team: the EVAPCO family, of which you can be part of.
PROVIDING YOU WITH PLENTY OF OPPORTUNITIES!